Coventry 21, 22, 23 July
We're excited to announce that Laser Light City is coming to Coventry! We'll be filling the cathedral with laser beams and the event is completely free to attend.
Dates and Times :
THU 21 July : 22:00 – midnight
FRI 22 July : 22:00 – midnight
SAT 23 July : 22:00 – midnight
Lasers take over Coventry Cathedral ruins
For the first time ever, we're adding a brand new laser show set to original music inside the cathedral ruins.
We will be installing our brightest lasers around the walls, criss-crossing over your head and filling the space with light and sound. You can get closer to the lasers than in any of our previous installations.
The shapes and architectural features of the cathedral will be picked out in neon laser light, at times sparkling, and at times creating sweeping geometric shapes that move from space to space.
The show runs continuously on an 8 minute loop.
In addition to this show, there'll be an array of 4 super bright lasers installed on St Michael's Tower, and you'll have the power to control them at your fingertips. Using your phone, the easy-to-use interface lets you choose the position and style of the beams that can be seen for miles.
Celebrating the Queen's Baton Relay

This project has been commissioned to commemorate the arrival of the Queen's Baton into the city as part of this year's Commonwealth Games.The Baton will be brought to the Cathedral at twilight where its arrival in the iconic ruins will trigger the start of the 3 night laser light display.
The Baton – a symbol of friendship between nations – reinforces Coventry's message of peace and reconciliation. As the lasers beam out across the city they symbolically carry this message to the county, the country and the commonwealth.
While the lasers are active, the button above will take you to the interactive website that gives you access to the system.
Tap on the site you want and you'll then have the chance to join the queue. IMPORTANT : do not let your phone switch off or you will lose your place!
Once it's your turn you'll get a countdown and then the laser control will be at your fingertips! Move the laser around by tapping and dragging on the screen. At times, you'll also have a choice of shapes.
While there are low flying aircraft nearby the lasers may be switched off temporarily. During that time the system will go into 'Airplane Mode', but once the aircraft has cleared we will be back to normal.
CGI visualisations of the Coventry installation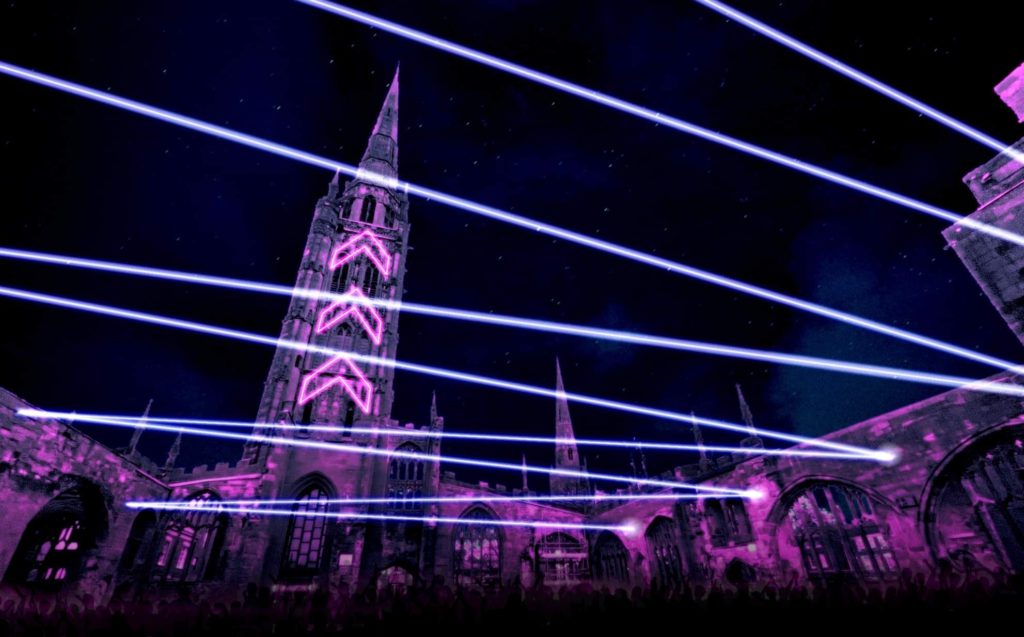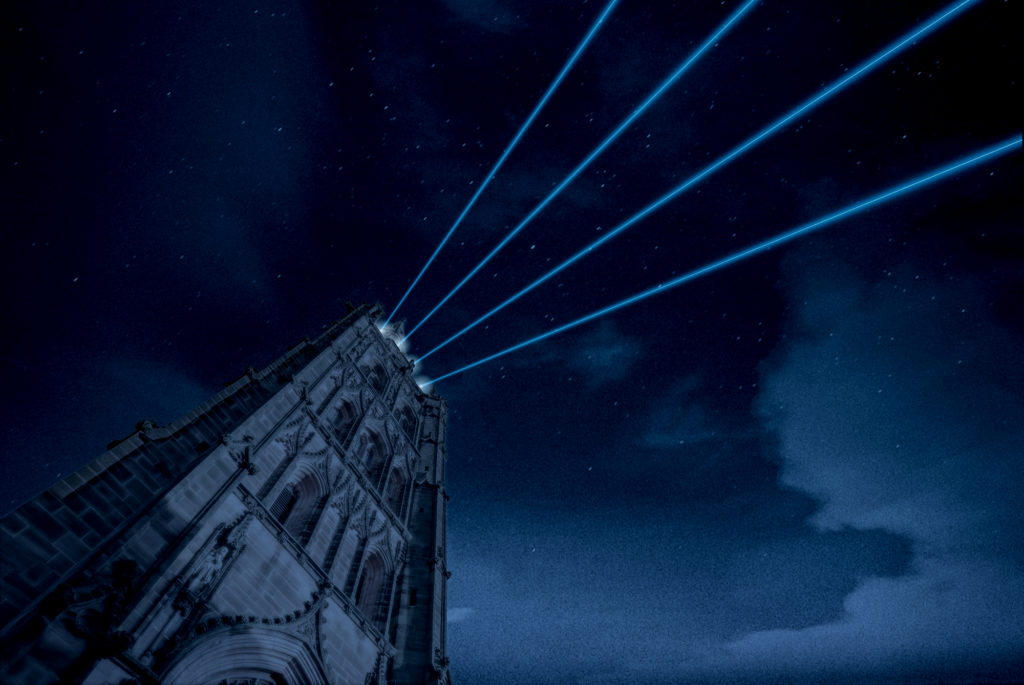 More information about Laser Light City is on our main page.
This project has been commissioned by Coventry City Council.